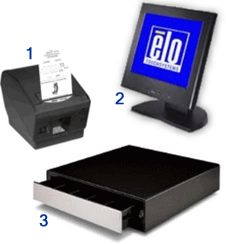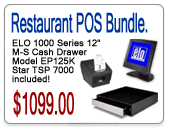 This point of sale bundle includes:
1. Star Micronics TSP700 High Speed Thermal Receipt Printer - Parallel Interface

2. Elo 1000 Series 12" (800x600) Flat Panel LCD Touch Screen
The touch screen requires one available SERIAL PORT or you can use a compatible USB to SERIAL DB9 Adaptor.

3. M-S Cash Drawer Model EP125K
Cash Drawer wired to connect to the Star Micronics TSP700 Receipt Printer 18.8"(W) x 15.2"(L) x 3.94"(H)


You will need to supply your own PC computer system for this package. Minimum requirements are:

Intel Pentium of AMDK6 Processor 500Mhz or faster, 128 Megs RAM, 10 GB hard-drive, CD-Rom drive, 56k modem, 1 serial port (COM) and 1 parallel port with monitor, keyboard and mouse. Power POS software is compatible with Windows, 95, 98, 200, ME and XP.

For more information, please call us at 800-646-4767.